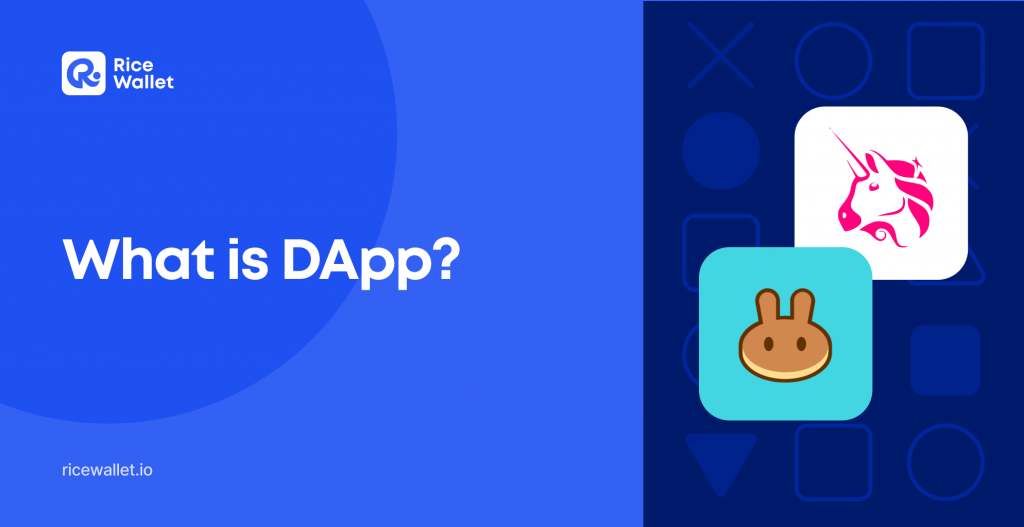 DApps are decentralized applications that operate independently, built on blockchain technology to provide utility or service to the community. Unlike traditional financial platforms (such as cryptocurrency exchanges, stock exchanges, etc.), DApps do not store user information and are not managed by any intermediaries.
DApp appeared after blockchain, and smart contract (smart contract) became an integral part of DeFi (Decentralized Finance).
Features of DApp
Decentralization: DApps do not require users to provide personal information and private data. Instead, all activity that takes place on a DApp is synchronized on the blockchain and is not controlled by any entity.

Censorship resistant: The operation of DApps can not be managed or controlled by the government or any intermediaries.

Open source: DApp provides 100% open source so that communities can create other projects from the code of pre-existing decentralized applications.
DApp category
Based on the use cases, DApps can be divided into many types: Exchanges, Wallets, Games, Betting, Finance, Social Networks,… in which Exchanges and Games are the most popular among the community.
Based on blockchain ownership, DApps are divided into Applications that own their own blockchain (such as Bitcoin and Ethereum) and Applications that use another application's protocol.
Some popular DApps in the market
1. Uniswap
Uniswap is a decentralized exchange or an Automated Market Maker (AMM) protocol built on the Ethereum Blockchain, providing a trading solution between ERC-20 standard tokens. The first version of Uniswap V1 was released in January 2018, and the second version of Uniswap V2 was released in May 2020.
Users can use Uniswap to exchange tokens built on the Ethereum network (ERC20), add tokens to the Pool to earn profits or add liquidity for tokens without going through any middlemen.
Currently, Uniswap is one of the most used decentralized applications by the Crypto investment community.
2. PancakeSwap
PancakeSwap is a decentralized exchange (DEX) built on top of Uniswap's source code. However, instead of running on Ethereum like Uniswap, PancakeSwap operated on BNB Smart Chain and was one of the first AMMs to allow users to exchange BEP-20 standard tokens.
PancakeSwap also has the same functions as other AMMs such as Swap, Farming, Liquidity,… PancakeSwap is considered a BNB Smart Chain liquidity center and is always in the Top #3 of the most traded DEX.
3. Aave
Aave is a decentralized lending protocol (Lending DApp), which allows users to lend, borrow and earn interest from crypto assets. Lenders provide liquidity to the market to earn passive income, while borrowers can borrow money by collateralizing the property.
Aave was born to solve the cumbersome, expensive, and time-consuming traditional lending procedures while eliminating the potential risks of peer-to-peer (P2P).
Currently, Aave is the largest Total Value Locked (TVL) platform on the market.