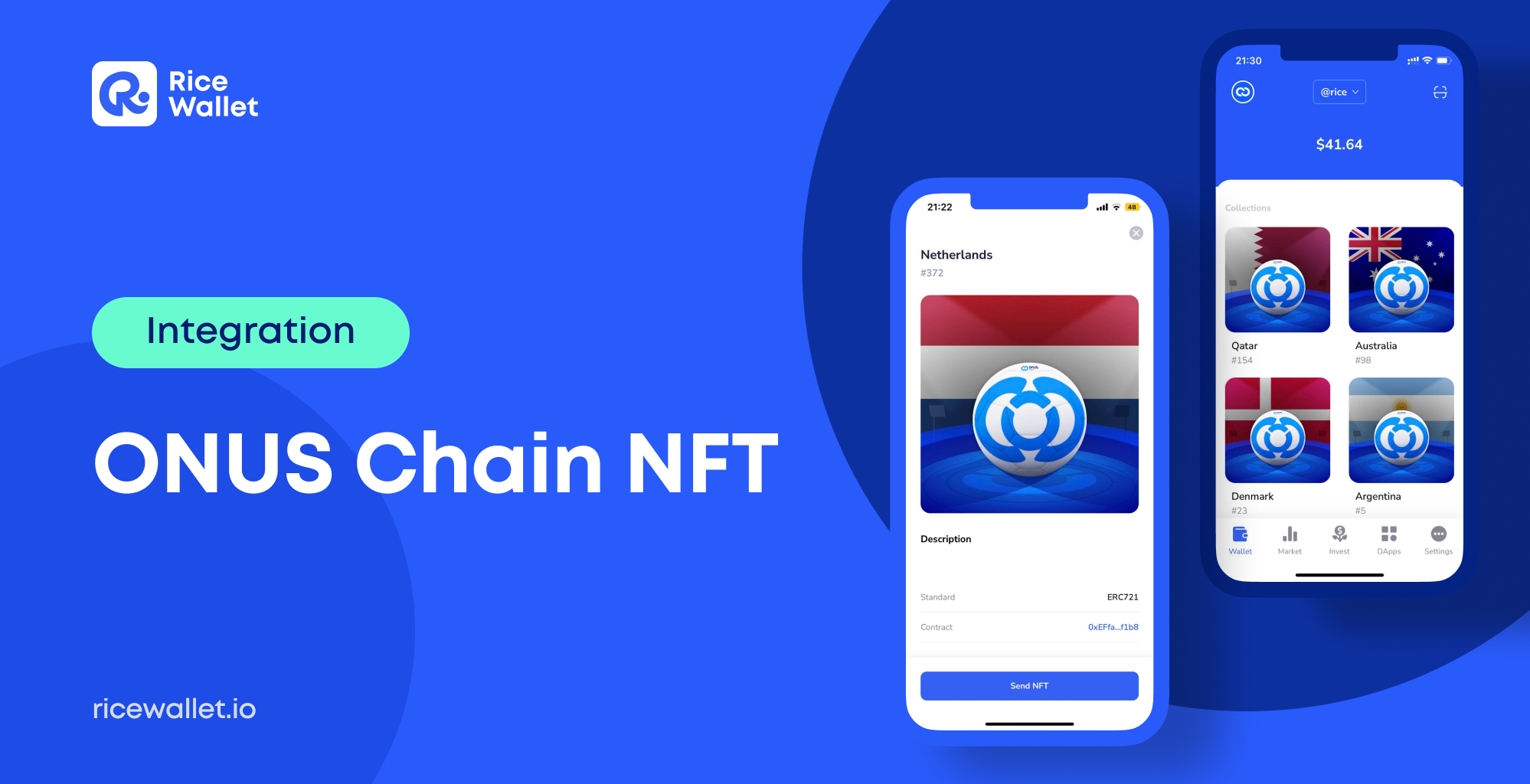 RICE Wallet has added support for NFTs based on ONUS Chain, giving users the ability to store, buy & sell all your favorite NFTs with a click of a button. Be sure to update your RICE Wallet to the latest version to utilize this update. This comes as ONUS Chain recently announced their World Cup NFT Marketplace, meaning that RICE Wallet supports all of the NFT standard supported by ONUS Chain.
Your NFTs on ONUS Chain will automatically appear on your wallet after the update.
1. What is ONUS Chain?
ONUS Chain is a high-performance, scalable, EVM-compatible blockchain platform built on the BNB Application Sidechain (BAS). ONUS Chain has a friendly interface accessible to all developers and users at a low cost.
In particular, with solid support from ONUS through a community of more than 2.5 million users and RICE Wallet with more than 1 million wallet addresses, ONUS Chain possesses a reliable launch platform to popularize to mass users right from the moment initial. ONUS Chain also received support from numerous development teams to convert and run their projects on the ONUS Chain.
2. What are ONUS World Cup NFTs?
To celebrate the 2022 World Cup, ONUS Chain holds a special event that allows users to free-mint NFT to cheer on their favorite teams and have a chance to win amazing rewards.
Access the event at the ONUS Chain network DApp Browser or at: https://wcairdrop.onuschain.io/
3. How does this new feature benefit RICE Wallet users?
You can now buy ONUS World Cup NFTs using your RICE Wallet.

You now have the ability to store your ONUS Chain NFTs, send and receive them on your RICE Wallet.
4. Why store ONUS Chain NFTs in RICE Wallet?
If you've asked yourself, "what's the best wallet for ONUS Chain NFTs?", then we've got you covered!
As one of the main partners, RICE Wallet is the official non-custodial wallet in the ONUS Chain ecosystem. Everyone can experience ONUS Chain on RICE Wallet without having to install the network every time, as well as get the earliest updates on tokens and DApps in the ONUS ecosystem.