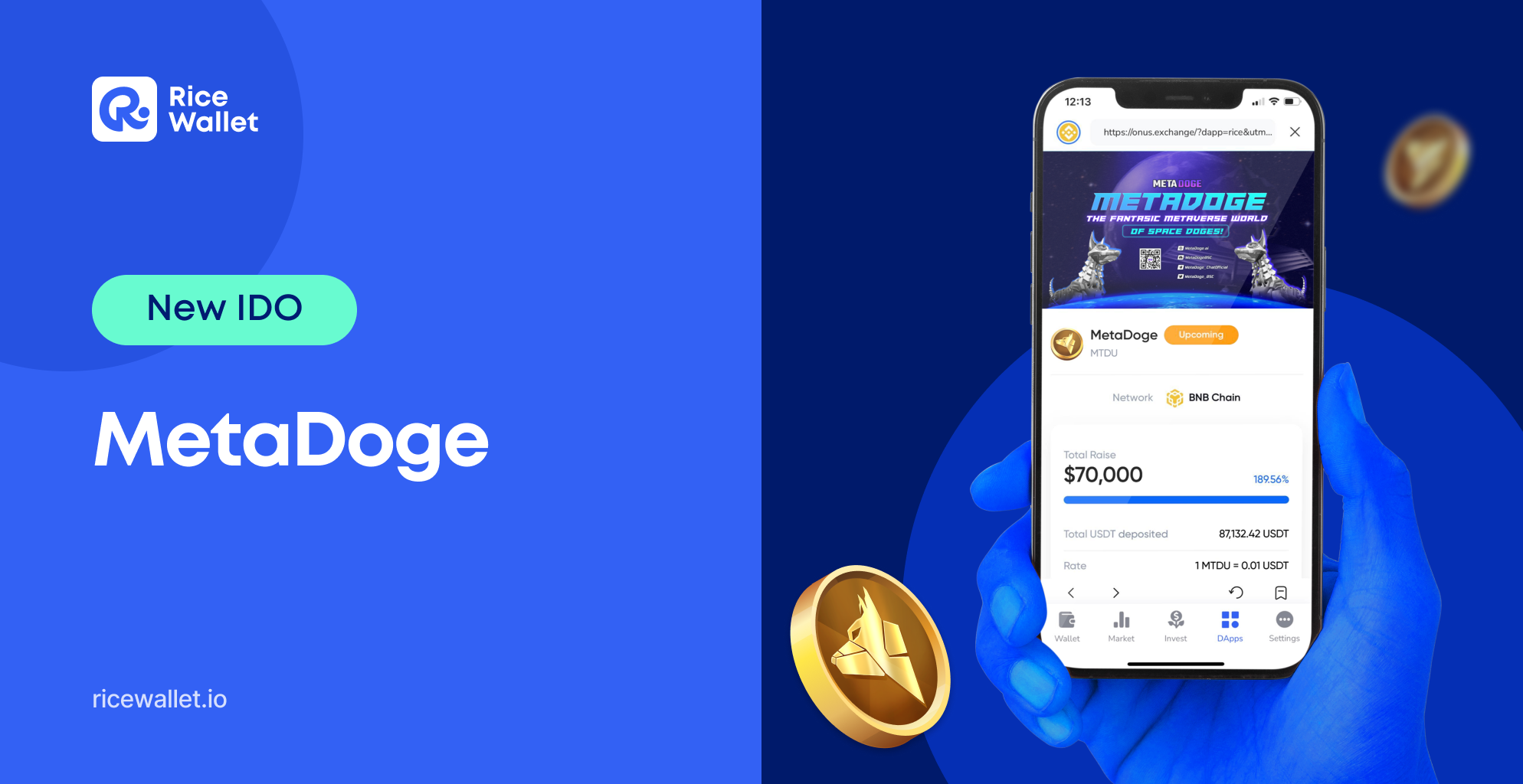 Metaverse has always been the inspiration for many projects to launch with creative ideas. On August 17, MetaDoge – a metaverse game built on blockchain with the image of dogs traveling in space (Space Doge) will officially deploy IDO through the Launchpad ONUS DeFi platform. Everyone can easily own tokens by accessing ONUS DeFi DApp on RICE Wallet.
Launchpad info:
(UTC time)
Quantity offered: 10,000,000 MTDU
02 Launchpad Pools: Public Pool ($30,000) and Pool for VIP members ($70,000)
Price: 1 MTDU = 0.01 USDT
How to buy: Deposit USDT at ONUS DeFi Launchpad and the proportion of MTDU tokens will be evenly distributed according to the participation rate.
Ordering time: 13:00 August 17 – 07:00 August 18
MTDU allocation time: 07:00 August 18
MTDU claiming time: 13:30 August 18
Conditions of participation: Everyone, including regular members and ONUS VIP Membership members.
VIP members can refund for free.
Important notes: 
13:00 UTC on August 18: MTDU tokens are opened for liquidity on PancakeSwap.
Token distributed from the Launchpad will unlock 25%. The remaining 75% will go under vesting in the next 4 months, equivalent to 18.75% per month at 13:30 UTC on TGE+30 days, TGE+60 days, TGE+90 days, TGE+120 days.
Seed Round: 10% at TGE, cliff for 2 month, linear vesting over 12 months.
Private Sale: 20% at TGE, linear vesting over 12 months.
Investors who buy MTDU through ONUS DeFi Launchpad can choose to Refund within 2 hours from the end of IDO.
IDO platform: Lunapad, BSCStation, KDG, Liquidifty, ACYPad, Diviner, BCSLaunch, AceStarter, ONUS DeFi.
Main stages:
Stage 1 – Register (Snapshot)
Launchpad Pool for Everyone: Deposit 25 ONUS to enroll. This amount will be refunded after the sale ends. You can deposit now.
Launchpad Pool for VIP Members: Users who own ONUS VIP Membership before 12:00 on August 17 will be eligible to join this pool.
Stage 2 – Purchase Registration
Time: 13:00 August 17 – 7:00 August 18.
To register to buy MTDU, you need to deposit USDT into the Launchpad pool. This amount of USDT will be temporarily locked and reopened after the end of the MTDU allocation process.
Launchpad Pool for Everyone: Minimum 10 USDT, maximum 2,500 USDT.
Launchpad Pool for VIP Members: Minimum deposit of 10 USDT, maximum of 5,000 USDT.
Stage 3: Token Allocation
07:00 August 18, ONUS will close the Purchase Registration portal and make MTDU allocation. You will be allocated the amount of MTDU in proportion to the USDT you have deposited for subscription.
Stage 4: Token Claiming
13:30 August 18, users access Launchpad to receive:
Registration Deposit
Number of MTDU successfully purchased (25% for the first vesting)
The amount of USDT left after purchasing
During 2 hours since 13:30 UTC on August 18, users can choose Refund to return the token and receive the amount of the IDO purchase. Learn the Refund mechanism here.
In addition, the system will simultaneously display the token vesting schedule and the amount of each cycle. On the day of receiving the token, users can access Launchpad and press "Claim" to receive the token.
About MetaDoge and token MTDU
MetaDoge is a Blockchain-based game project that takes inspiration from Space Doge. This game is intended to be an expandable ecosystem with attractive game modes.
Some completed game modes for different purposes and targets:
Endless Runner – Free to Play & Earn: In this mode, the player goes on an endless space race, where they show off their skills to control the Space Doge to overcome obstacles, collect coins and level up his Space Doge. Players on the leader board can be rewarded with tokens based on their rankings.
Runner Tracker: This mode is designed for a healthy & balanced experience. MetaDoge runner tracker is a move-to-earn app that helps players both increase their health and can receive resources to upgrade their Space Doge. Players can run alone, or with their real-life dog to exercise and prepare for the fierce races of MetaDoge Virtual Racing.
MetaDoge Virtual Racing: A PVP game between players. Here, the Space Doges will race together in fierce races throughout the universe. The winners will receive rewards from the Game Treasury and other resources. Elite players will have the opportunity to receive Tickets to participate in the prestigious Championship Tournament with extremely valuable rewards.
MetaDoge (MTDU) is developed as the governance token of the Metadoge game and can be used to:
Buy Metadoge Box.
Users stake MTDU tokens to receive rewards.
Reward players participating in tournaments and PvP modes