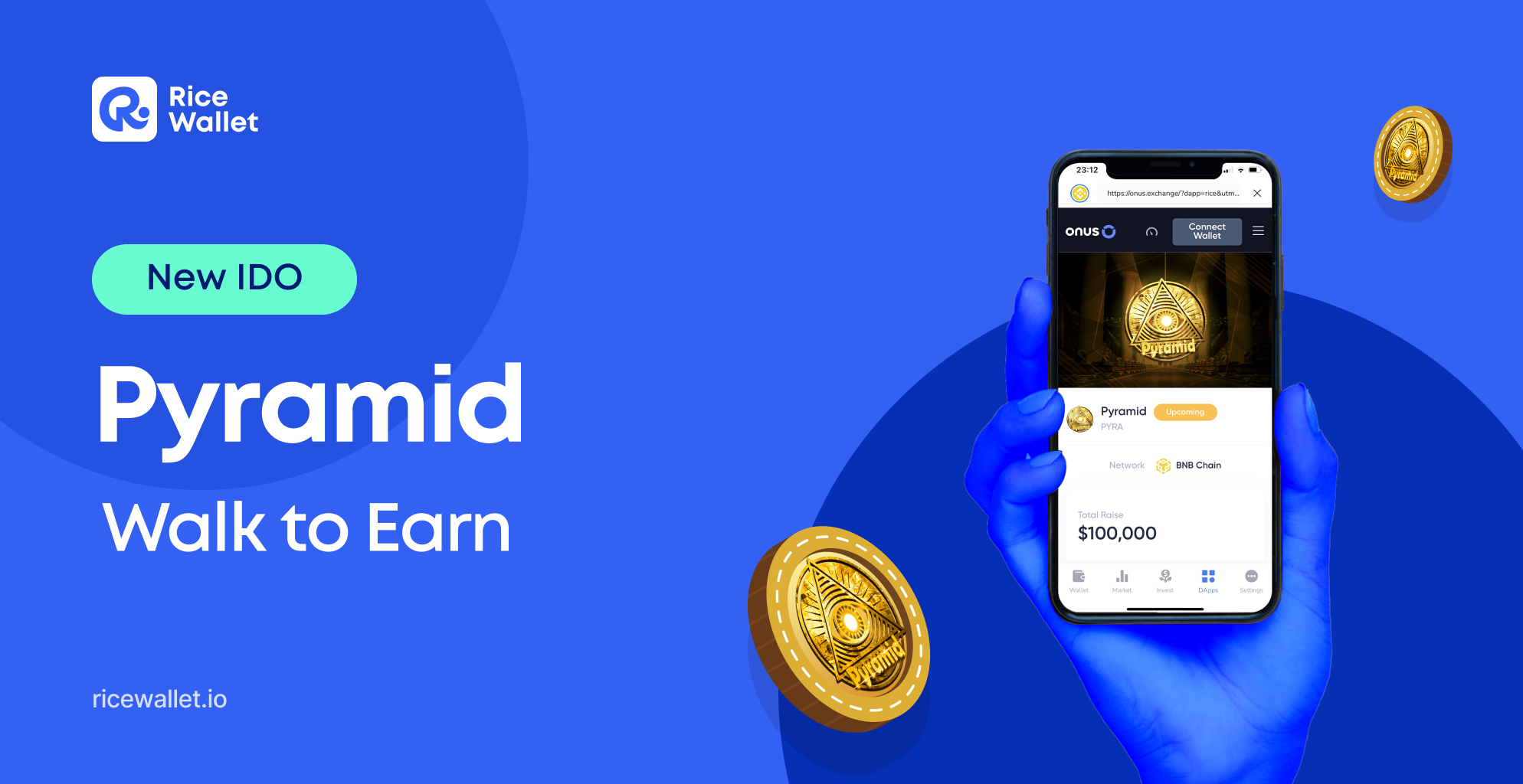 A fresh breeze of "Move to Earn" blew into the Blockchain community when STEPN was introduced to the cryptocurrency community in early 2022. This model allows users to monetize their everyday motions utilizing motion measurement and sensor technologies.
To help the community approach this trend, in addition to supporting transactions and linking with "Move to Earn" tokens, RICE also actively seeks and introduces to everyone investment opportunities in potential projects.
On June 9, 2022, Pyramid Walk to Earn (PYRA) will officially launch the first token sale on ONUS DeFi Launchpad. Everyone can easily join IDO by accessing ONUS DeFi at the DApp feature on RICE Wallet.
IDO Info: 
Quantity: 12,500,000

 HES

02 IDO Pools: Pool for Everyone ($50,000) and Pool for VIP members ($100,000)

Rate: 1 PYRA =

0.012

USDT

How to join: Deposit USDT at ONUS DeFi Launchpad, and the proportion of PYRA tokens will be evenly distributed according to the participation rate.
Ordering time: From 13:00 UTC on June 09 to 7:00 UTC on June 10
Allocation time: 7:00 on June 10
Claiming time: 14:00 on June 10
IDO Phases:
Phase 1: Participation Registration
IDO Pool for Everyone: Deposit 25 ONUS to register. This amount will be refunded after the launchpad ends.

IDO Pool for VIP Members: All users who own ONUS VIP Membership NFT before 12:00 UTC on June 09 will be automatically registered by the system.
Phase 2: Purchase Registration
To participate in PYRA Launchpad, users can deposit USDT into the IDO pool via RICE Wallet. This amount of USDT will be temporarily locked and reopened after the end of the allocation period.
Pool IDO for Everyone: 10 USDT Minimum; 2,500 USDT Maximum 

Pool IDO for VIP Members:  10 USDT Minimum; 2,500 USDT Maximum
Phase 3: Token Allocation
At 7:00 UTC on June 10, ONUS DeFi will close the Purchase Registration and make PYRA allocation. Users will be allocated the amount of PYRA in proportion to the USDT they have deposited for the subscription.

Phase  4: Token Claiming
From 14:00 UTC on June 10, users can access ONUS DeFi Launchpad to receive:
Registration Token: 25 ONUS

Number of PYRA purchased (20% for the first vesting)

The amount of USDT left after purchasing
The system will simultaneously display the token vesting schedule and the amount of each cycle. Everyone can go to ONUS DeFi Launchpad, connect with RICE Wallet, and press "Claim" to receive tokens.
Know how to access ONUS DeFi on RICE Wallet here
About Pyramid and PYRA token
Pyramid – Walk to Earn is an application of the Pyramid Ecosystem, built by a team of experienced developers in professional sports and blockchain. Pyramid App provides Walk to Earn solutions, combined with decentralized finance elements such as NFT Marketplace, Pyramid NFT Sneakers, multi-chain Launchpad platform and Staking features, Farming to get rewards.
PYRA is a token operating in the Pyramid ecosystem, operating on the BNB Smart Chain platform according to BEP20 standards. PYRA is used as a reward in the ecosystem, such as Farming, Staking, Launchpad,…. Besides, PYRA is also an asset representing the value of the Pyramid ecosystem.