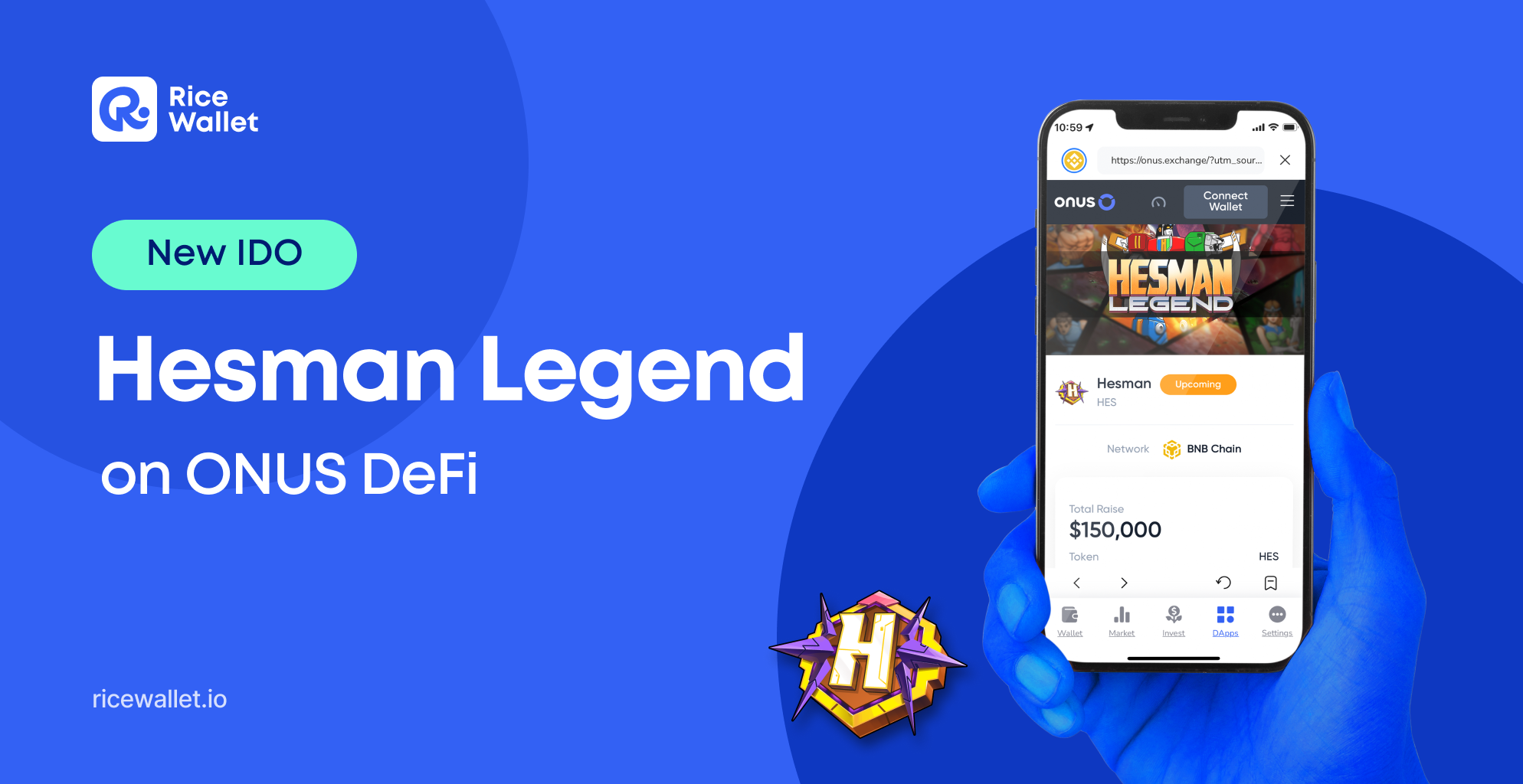 IDO – Initial DEX Offering is a simple and cost-effective form of initial token issuance on a Decentralized Exchange (DEX).
After a thorough assessment process, ONUS DeFi will start the Hesman Legend public sale (HES) through the Launchpad platform. Users can easily join IDO by accessing ONUS DeFi via the DApp feature on RICE Wallet.
IDO Information:
Quantity: 10,000,000 HES
02 IDO Pools: Pool for Everyone (7,500,000 HES) and Pool for VIP members (2,500,000 HES)
Rate: 1 HES = 0.02 USDT
How to join: Deposit USDT at ONUS DeFi Launchpad, and the proportion of HES tokens will be evenly distributed according to the participation rate.
Ordering time: From 13:00 UTC on May 26 to 7:00 UTC on May 27
Allocation time: 7:00 on May 27
Claiming time: 14:00 on May 27
IDO Phases:
Phase 1: Participation Registration
To join Hesman Legend IDO, users must register before 12:00 UTC on May 26.
IDO Pool for Everyone: Deposit 10 ONUS to register. This amount will be refunded after the launchpad ends.
IDO Pool for VIP Members: The system will automatically register all users who own ONUS VIP Membership NFT before 13:00 UTC on May 26.
Phase 2: Purchase Registration
To participate in HES Launchpad, users can deposit USDT into the IDO pool via RICE Wallet. This amount of USDT will be temporarily locked and reopened after the end of the allocation period.
Pool for Everyone: 10 USDT Minimum; 37,500 USDT Maximum
Pool for VIP Members: 10 USDT Minimum; 2000 USDT Maximum
Phase 3: Token Allocation
At 7:00 UTC on May 27, ONUS DeFi will close the Purchase Registration and make HES allocation. Users will be allocated the amount of HES in proportion to the USDT they have deposited for the subscription.
Phase 4: Token Claiming
From 14:00 UTC on May 27, users can access ONUS DeFi Launchpad to receive:
Registration Token: 10 ONUS
Number of HES purchased (25% 25% for the first vesting)
The amount of USDT left after purchasing
The system will simultaneously display the token vesting schedule and the amount of each cycle. Everyone can go to ONUS DeFi Launchpad, connect with RICE Wallet, and press "Claim" to receive tokens.
Know how to access ONUS DeFi on RICE Wallet here.
About Hesman Legend and HES token
Hesman Legend is a Metaverse project launched on the occasion of 30 years of publishing "Hesman Hero" – a comic series associated with Vietnamese youth of the previous generation by artist Nguyen Hung Lan.
HES is an in-game token that works in the Hesman game, runs on the BNB Smart Chain, and is used as:
A currency for in-game activities such as summoning heroes, buying items, etc.
Governance and reward tokens through the Grazing Range program for those who stake HES into the Administration Vault
Access to exclusive privileges of owning HES tokens and Hesman NFT