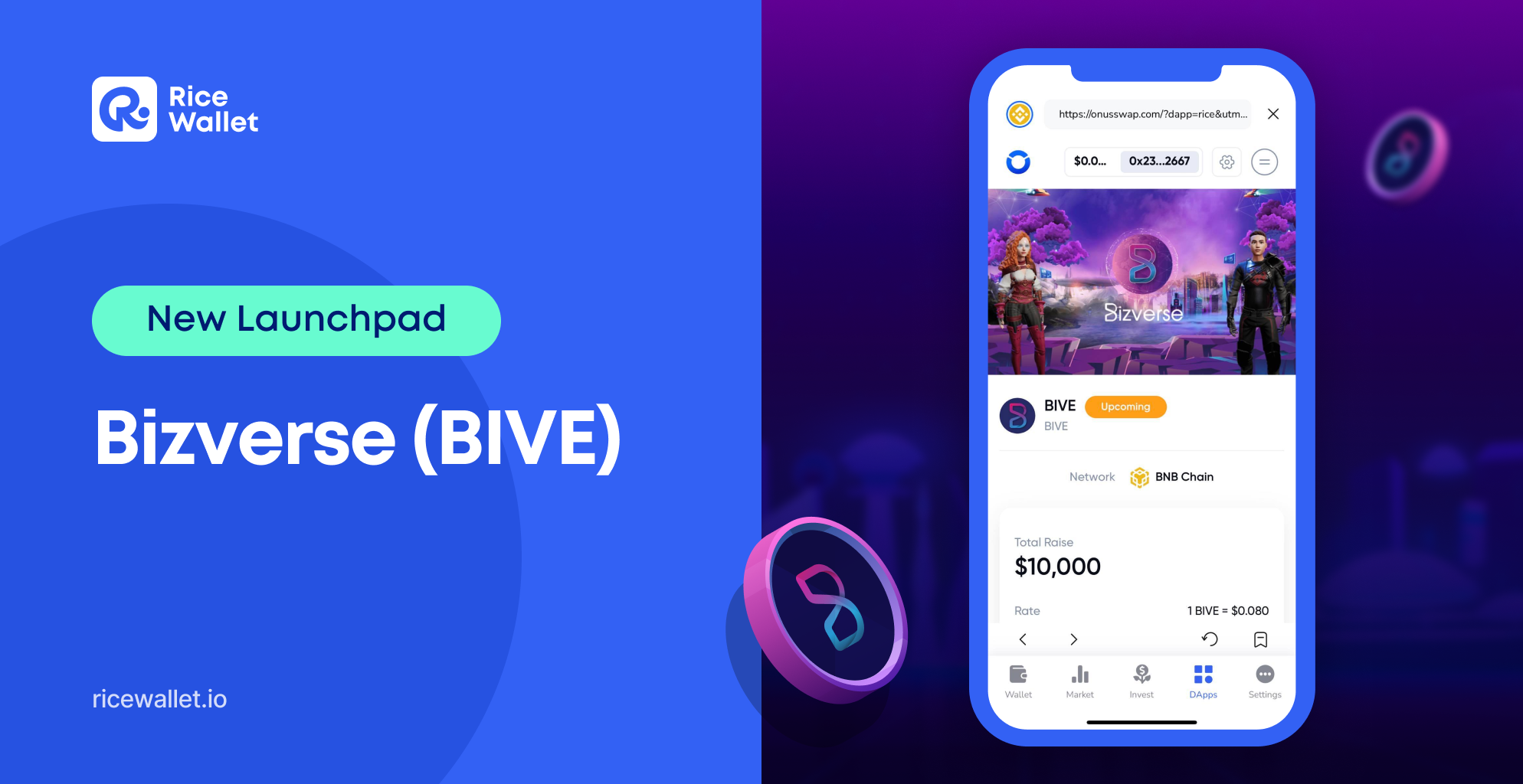 On October 12th, Bizverse – a virtual reality world where the users can live, work and participate in the business activities, entertainment, will be officially open for sale on ONUS Swap Launchpad. Everyone can easily own BIVE tokens by accessing ONUS Swap DApp on RICE Wallet.
Launchpad details:
(UTC time)
Quantity offered: 125,000 BIVE
01 Launchpad Pool: Private Pool for VIP members (10,000 USD)
Price: 1 BIVE = 0.08 USDT
How to buy: Deposit USDT at ONUS Swap Launchpad and the proportion of BIVE tokens will be evenly distributed according to the participation rate.
Ordering time:  08h00 AM UTC, October 12th – 05h00 AM UTC, October 13th
BIVE allocation time: 08h00 AM UTC, October 13th
Conditions of participation: ONUS VIP Membership members
Does not apply refund mechanism
Participate in ONUS Swap Launchpad at Launchpad Pool for VIP Members.
Important notes: 
Public sale (100%): 1,750,000 BIVE will be open for public sale through the ONUS app and 125,000 BIVE through ONUS Swap.
Launchpad tokens will be 50% unlocked at TGE, the remaining 50% will vest steadily over the next 5 months.
For more details, please check out Bizverse's Whitepaper.
Bizverse Community: Telegram | Twitter | Facebook.
Main stages:
Stage 1: Register (Snapshot)
Launchpad Pool for VIP Members: Users who own ONUS VIP Membership before 08h00 AM UTC, October 12th will be eligible to join this pool.
Stage 2: Purchase Registration
Time: 08h00 AM UTC, October 12th – 05h00 AM UTC, October 13th
To register to buy BIVE, you need to deposit USDT into the Launchpad pool. This amount of USDT will be temporarily locked and reopened after the end of the BIVE allocation process.
Launchpad Pool for VIP Members: Minimum deposit of 10 USDT, maximum of 5,000 USDT.
Stage 3: Token Allocation
05h00 AM UTC on October 13th, ONUS will close the Purchase Registration portal and make BIVE allocation. You will be allocated the amount of BIVE in proportion to the USDT you have deposited for the subscription.
Stage 4: Token Claiming
08h00 AM UTC October 13th, users access Launchpad to receive:
Registration Deposit
Number of BIVE successfully purchased
The amount of USDT left after purchasing
About Bizverse and BIVE
The Bizverse World is a Metaverse world with a fully Digital Twin for your business and your life. Bizverse World aims to build a virtual reality environment, a real metaverse for business activities, where all users can easily bring their business activities to the network environment, conduct the comprehensive digital transformation of business operations and increase outstanding efficiency with the maximum support of technologies.
In Bizverse, users can play a role as a shopper or people seeking investment cooperation opportunities. Users can also participate in viewing advertising content and visit booths and they can easily connect to find shopping opportunities, investment cooperation and find friends through participating in events…
Website: https://bizverse.io
BIVE is the main currency token of the system. BIVE plays a central role in the Bizverse ecosystem:
Used as means of transaction.
Buy/sell/rent/lease properties; rent/lease the vrExpo event organization system.
Convert tokens (Swap) with VRA to reward users for conducting a token mining mechanism (coin mining).
Pay a fee to upload works and VR Assets to Marketplace.
Participate in the system governance process through voting.
Participate in staking to earn a bonus in BIVE.